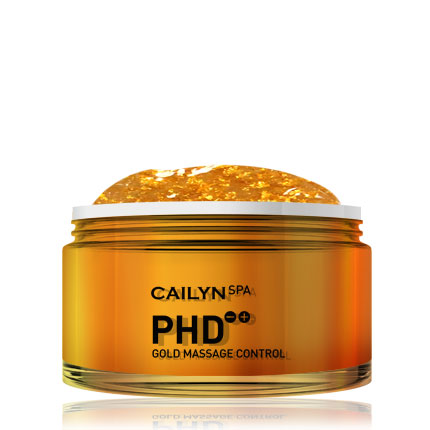 Discover the gold mine of youth in a jar!
CAILYN PHD Gold Massage Control is a luxurious formula that revitalizes the look and feel of the skin. The ultra luxe, gel formula features 24k gold, believed to provide powerful rejuvenating and detoxifying effects. The appearance of fine lines and wrinkles are dramatically reduced with the aid of acetyl hexapeptide-8 and tripeptide-5 as they stimulate the production of collagen to retain elasticity. Sodium hyaluronate enriches skin with a boost of moisture to maintain a healthy and hydrated complexion. 
Ion Balancing
Gold will deliver the good negative ions into the skin's deepest layers while pushing the bad positive ions out from the skin.
Pore Control GW Action
As you massage the gel, gel turns into water to clear pores efficiently and reduce excess oil.
Detoxifying
Gold will push out a battery of impurities and positive ions.
Skin Rejuvenation
More refined texture with tighter, smaller pores.
KEY INGREDIENTS
Acetyl Hexapeptide-8 & Palmitoyl Tripeptide-5
Stimulates the natural production of collagen, which plumps the skin and gives elasticity. It helps to heal and regenerate your skin and remove damaged collagen.
Sodium Hyaluronate
Provides essential moisture to your skin. Sodium Hyaluronate has unique ability to hold in moisture up to 1,000 times its weight. It both attracts and retains moisture within the skin, boosting the elasticity and hydration.
Vitamin B5 (Panthenol)
Soothes, softens and moisturizes the skin, reducing the appearance of fine lines and wrinkles.
Vitamin B3 (Niacinamide)
Improves skin's moisture barrier, allowing for the natural production of collagen.  It also helps erase discolorations, and revives skin's healthy tone and texture.
HOW TO USE
Aqua, Butylene Glycol, Niacinamide, Sorbitol, Carbomer, Glycerin, Potassium Hydroxide, Aloe Barbadensis Leaf Juice, Barosma Betulina Leaf Extract, Acetyl Hexapeptide-8, Achillea Millefolium Extract, Centella Asiatica Extract, Malva Sylvestris Extract, Melissa Officinalis Leaf Extract, Mentha Piperita Leaf Extract, Palmitoyl Tripeptide-5, Polysorbate 20, Primula Veris Extract, Veronica Officinalis Extract, Phenoxyethanol, Ethylhexylglycerin, Panthenol, Salicylic Acid, Gold, Sodium Hyaluronate
Net Wt. 1.7 FL OZ | 50 ML
PAO: 12 MO
MADE IN USA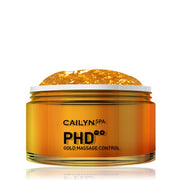 PHD GOLD MASSAGE CONTROL