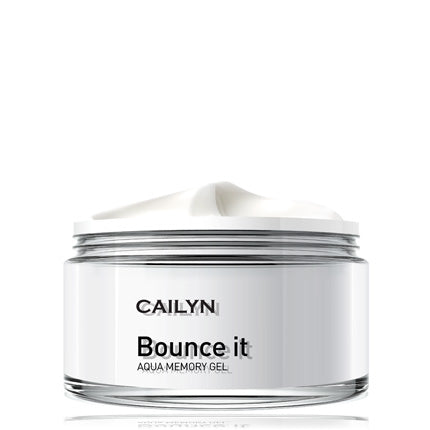 BOUNCE IT AQUA MEMORY GEL
Bounce your skin back to its budding, youthful beginning!
CAILYN Bounce It Aqua Memory Gel is formulated to combat the signs of aging and boost the skin's moisture levels. Formulated with our exclusive and innovative CELL-EX 5 Peptide Complex, it features a potent blend of peptides that work to boost collagen production to restore firmness, smoothness and reduce the appearance of fine lines and wrinkles. Advanced technology using a Moisture Lock-In system, creates a veil that seals in moisture for continuous hydration. 
Rev up Skin's Energy
BounceIt is a revolutionary skin memory gel that lifts and plumps the skin to restore youthful firmness. Formulated with groundbreaking skin regenerating peptide complex, the gel penetrates into the deeper layer of skin and helps effectively boost the production of collagen and elastin to improve your skin's resilience, firmness, and texture.
Retexturize Skin Surface
Polish your skin surface with peptide rich hydrating gel to help fill in wrinkles and brighten your skin tone. Minimizing the appearance of fine lines and enlarged pores, this gel provides you visible improvement on the skin surface instantly. As smooth as a marble stone, your skin will look more refined and supple. 
Lock in Moisture- "Flight Ready Hydration"
Developed using technologically advanced "Moisture Lock In" system, BounceIt creates a hydration veil which provides and locks in moisture within your skin. This superb gel hydrates to boost volume and contour shape of cells across skin's surface.  Performing marvelously even under the most harsh environments such as plane cabins, it is a quick and fabulous hydration for the jet-setter on the go! Prepare your skin with ample moisture and protection before getting on board.
CELL-EX 5 Peptide ComplexHighly effective and powerful peptide complex stimulates the inner layers of skin by enhancing the productivity of collagen. The small molecular peptides in this amazing gel more effectively penetrate into the deeper layer of skin and help to strengthen the connective tissue and inhibit the breakdown of collagen. Serving as a skin memory component, this helps  plump and contour the shape of skin cells to reduce the signs of aging skin such as enlarged pores and fine lines.
HOW TO USE
Apply after daily cleanser. Use day and night. 
CAILYN Tip
Apply under your makeup foundation for a smoother and more hydrated appearance.
Net Wt. 50 g
PAO: 12MO
MADE IN USA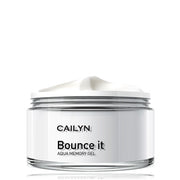 BOUNCE IT AQUA MEMORY GEL